Imagine que uma certa quantia de dinheiro ficou parada numa conta bancária e que, hoje, você vá consultá-la e decida sacar apenas os juros que o valor rendeu no mês. A julgar pelo que se viu ontem, no Via Marquês, em São Paulo, um show do Ugly Kid Joe é mais ou menos isso. A banda americana, que em 1994 tocou no Brasil – no extinto festival Hollywood Rock - para estádios com até 70 mil pessoas, se apresentou para menos de 1% desse número. Basicamente, tocou para gente que pareceu ter ido ao local somente para ouvir ao vivo "Everything About You", o grande hit do UKJ, lançado em 1992.
Sem o pula-pula que a música sugeria, há 20 anos, o UKJ começou o show às 22h. O vocalista Whitfield Crane, que há duas décadas arrancava suspiros das mulheres, entrou no palco calmamente, vestindo uma camiseta do Motörhead e usando um boné. A banda abriu com "V.I.P.", do álbum "Menace to Sobriety", de 1995, e, até que o grupo tocasse "Neighbor", um dos hits do disco de estreia, "America's Least Wanted" (1992), o público mal se manifestou.
Crane foi tentando ganhar a plateia gradativamente ao longo dos 94 minutos da apresentação. Conseguiu acenos ao fotografar fãs próximos ao gargarejo e permitiu que um deles o abraçasse, ainda que tivesse invadido o palco. Além disso, mostrou a única coisa que, segundo ele mesmo, conseguia falar em português: soltou um "obrigado, São Paulo", ainda na parte inicial do show. O guitarrista Klaus Eichstadt, que aprendeu mais duas palavras de nossa língua, veio ao microfone e ajudou com um "do c...lho".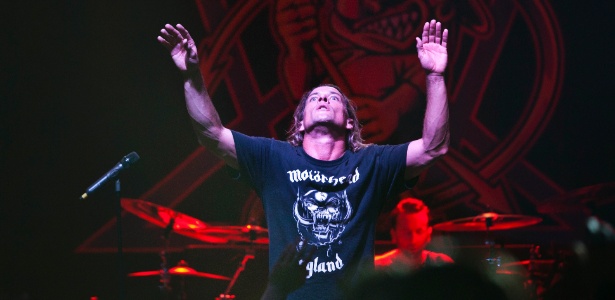 Klaus é o que melhor personifica o humor que marcou a banda no início da formação. Se Crane preferiu uma estampa do Motörhead, ele surgiu em cena com uma camiseta em que o nome Madonna aparecia escrito no logo do Metallica. Whitfield, agora quarentão, pontuou o show com brincadeiras, caso do momento em que perguntou se alguém sabia o título do EP que é o trabalho mais recente do UKJ ("Stairway to Hell"). Com a resposta afirmativa de alguns, devolveu "então indiquem (o CD) para suas mães...e avós".
Antes do encerramento previsível, com "Everything About You", o vocalista ao menos deixou claro que ainda tem boa voz. Cantou versões de "Sweet Leaf", do Black Sabbath, e "Dirty Deeds Done Dirt Cheap", do AC/DC, esta uma surpresa dentro do repertório, seguido quase à risca aqui, que o UKJ tem mostrado na Europa.
O som do quinteto é até bem razoável para quem gosta das escolas anos 1970 e 1980 do hard rock, o que agrada principalmente a fãs europeus do gênero. Tanto que a banda, que esteve parada por quase 15 anos, participou de vários festivais, neste ano, no Velho Continente. O problema é que, além do humor ter perdido um pouco da graça, a energia que o UKJ mostrava nos anos 1990 não voltou à ativa da mesma forma que o grupo, e um show da banda acaba se justificando apenas pelo saudosismo.